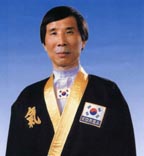 Born August 1st, 1942 In Sun Suh is brother to Kuk Sool Won founder In Hyuk Suh (Suh and Seo are indeed the same names, however the difference lies in how each man chooses to render the name into English). In 1983 In Sun Suh was elected president of the Korea Kido Association (DaeHan Kido Hwe), and later (1999) established the World Kido Federation to provide an official link to Korea for martial arts practitioners around the world. Today, In Sun Suh is head of the World Kido Federation (WKF), and the Hanminjok Hapkido Association, and a 10th dan.
At one time In Sun Suh was a Chief Master of Kuk Sool Won, and head of the Korean Kuk Sool Association.
Community content is available under
CC-BY-SA
unless otherwise noted.