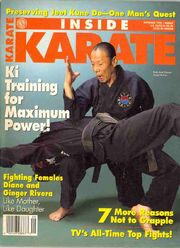 Master Jung Oh Lee was one of the first three Kuk Sool masters to have graduated from a special senior master's instruction course personally taught by Grandmaster In Hyuk Suh in the 1960s Korea. Before he came to the United States in 1984, Master Lee served as the head master of Kuk Sool Won's Korean headquarters in Busan, Korea. Master Lee was renowned for demonstrating "ki" power in speed/impulse breaking techniques. Master Lee passed away in San Francisco in 2012, as the oldest and longest-practicing Kuk Sool master.
Memorial site: http://www.tributes.com/Jungoh_Lee
Facebook: http://www.facebook.com/masterjungohlee
1933 - Born in Osaka, Japan to Korean immigrants
1945 - Immigrated to Korea with his family
1949 - Began training in body-building and Japanese arts of self-defense (goshindo and yawara) in Kobe, Japan
1960s ~ 1970s - Toured Korea, giving Kuk Sool seminars and demonstrations
1961 - Joined the first Kuk Sool Won school in Busan, Korea
1965 ~ 1973 - Opened several Kuk Sool Won schools in Korea
1970 - Appointed Technical Master in charge of maintaining technique standards of Kuk Sool Won
1974 ~ 1975 - Toured Japan, giving Kuk Sool seminars and demonstrations
1980s ~ 2000s - Participated in World Kuk Sool Championships and Masters' Exhibitions
1980 - Awarded the 8th degree black belt in Kuk Sool
1982 ~ 1983 - Toured the United States and Mexico, giving Kuk Sool seminars and demonstrations
1984 - Immigrated to the United States with his family
1985 - Featured in the May issue of Inside Kung-Fu Magazine (Chi Power edition)
1988 - Featured in the October issue of Kakutogi Tsushin (martial arts magazine published in Japan)
1993 - Presented with the commander's sword by the U.S. Military Academy at West Point
1994 - Graced the cover of Inside Karate Magazine (September issue)
1998 ~ 2001 - Sponsored the Kuk Sool resource site at www.kuksool.org
2005 - Awarded the 9th degree black belt by the World Kuk Sool Association
2012 - Passed away in San Francisco on January 31.

Taken from the index.html old Kuk Sool Resource Site

Leejr 08:46, April 1, 2012 (UTC)