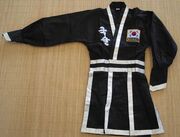 1st Dahn
Assistant Instructor
Jyo Kyo Nym wears a ceremonial do-bok (General's Uniform) with silver trim. Also available is a General's Uniform with yellow tassles.
Jyo Kyo Nym is the lowest rank permitted (with permission from WKSW HQ) to own and operate a Kuk Sool Won™ school.
Jyo Kyo Nym knows 6 Forms & 226 Techniques.
Further training at 1st Dahn exposes the Kuk Sool Won™ student to an additional 5 new forms, 143 new techniques & specialty kicking.
See also
Edit
Community content is available under
CC-BY-SA
unless otherwise noted.