Welcome to the Kuk Sool Won™ Wikia,

The wiki about Kuk Sool Won™.

262

Articles since

December 11, 2006

Finally back ^^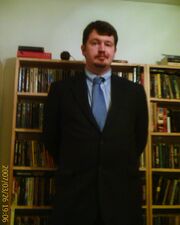 Name: Simon Bland
Rank: Cheong Di
Age: 34
Height: 6'3"
Weight: 240lbs (and falling!)
Instructors: Kwong Jang Nym Alex Suh (6th Degree), Sah Bum Nym Arby, Pu Sah Bum Nym Joe, Kyo Sah Nym Eric "Pushups are better than ice-cream, sir!" Morales, and Jyo Kyo Nym Randy.
School: Kuk Sool Won of Tomball (World KSW Headquarters)
Achievments: 4th place sparring in 2006 World Kuk Sool Won tournament, White Belt, 26-35 men's division.

Background: Red Belt in WTF Tae Kwon Do, experienced in Muy Thai and American Kickboxing, beginner level experience with Wing Chung Kung Fu. Completely in awe of how much better KSW is than anything I've studied before.

Goals:
To go from obese (290lbs when I started Kuk Sool) to athletic and fit. 50lbs lost so far, about 30 more and I should be looking good!
To be able to perform an aerial at will.
To get back my tornado kick skills! I used to be SOOOO good at those when I was 19ish and doing TKD. I'd love to land a 540° tornado.
Feel free to contact me via email